The Shabbat kiddush room at the Chabad Center.
KIDDUSH SPONSORSHIP MADE EASY!
Celebrate your birthday, anniversary, the Yahrzeit of a family member or other family occasion with a kiddush at the shul! The Kiddush is affordable and is a beautiful way of celebrating with the community.
Please see our Kiddush Sponsorship Board hanging in the Chabad Center lobby to find out which dates are available.  If you have any questions or would like to reserve a kiddush date, call the office at 508-650-1499.  Also, please fill out the simple form below.
Click here for the Basic Kiddush Sponsorship Form. 
Basic Kiddush Sponsorship: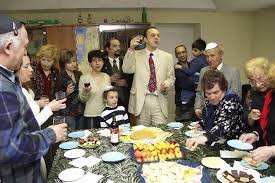 If you would like to sponsor one of the weekly Shabbat kiddushes for the expected weekly crowd, the cost is $200 for our basic beautiful kiddush menu of Challah rolls, assorted salads and more prepared by our wonderful kiddush committee and helpers or you can use an acceptable caterer. In this case, the hall rental fee is waived for members and the cost is $100 for non-members (in addition to cost of kiddush sponsorship/caterer).  If you would like to become a member please call the office.

Simcha/Function Hall Rental:
The Chabad Center is a wonderful and inexpensive option for your life-cycle celebrations or any type of function.  Please contact the office at 508-650-1499 as much in advance as possible and a meeting will be set up at your convenience to reserve your dates and help you plan your event.  This applies whether you are looking to rent space during the week or on Shabbat - if you are expecting more than 10 additional guests than the expected weekly crowd.