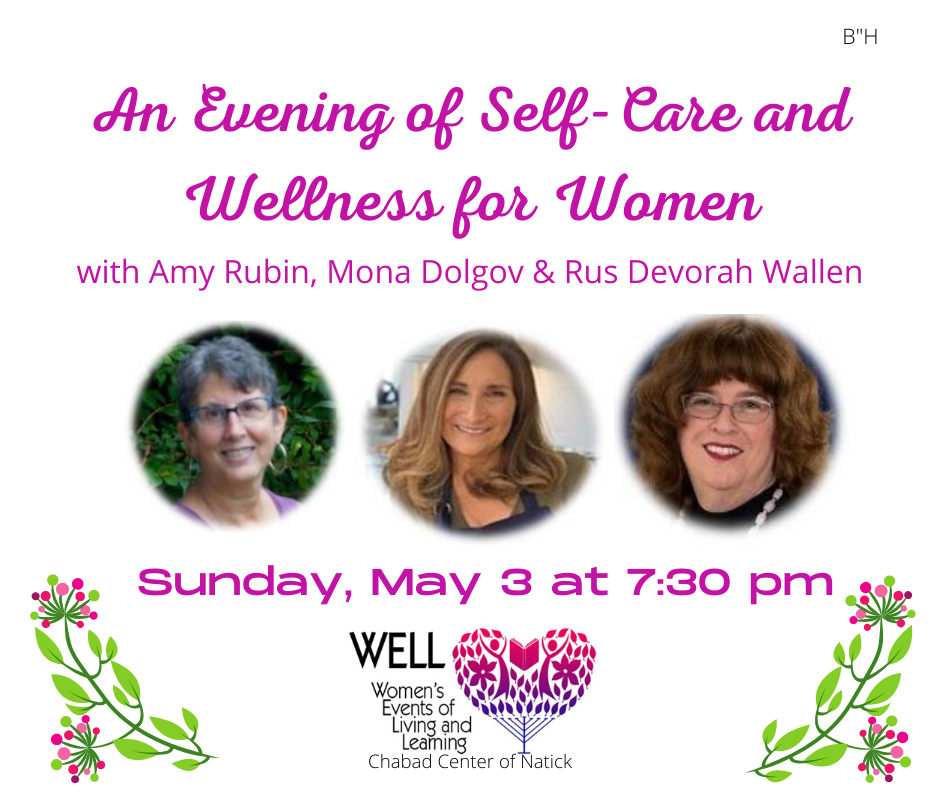 Ladies - you don't want to miss this exciting online event! 
Join us on Sunday, May 3 at 7:30 pm for an hour-long program featuring
stretching, healthy cooking, therapeutic breathing and spirituality.  
Stretch along with...
Amy Rubin, Learning Specialist and Yoga Instructor
Amy is a Learning Specialist at the Metro West Jewish Day School. Amy has been a Jewish educator in the Boston area since 1992. She received her Bachelor's Degree in Jewish Education from Hebrew College, and Masters Degree in Special Education from Lesley University. She provides specialized curriculum supports to students, both individually and in small groups. Amy is a Certified ChildLight Yoga® & Mindfulness for Children Instructor as well as a Registered Yoga Teacher (RYT-200). 
Cook along with...
Mona Dolgov, Nutritionist, Marketer, Cookbook Author
Nutritionist, cookbook author and product development expert Mona Dolgov lives her lifelong mission of creating "kitchen comfort" and healthier eating habits through her recipe development, helpful nutritional content, and simple culinary tricks. A graduate of Cornell University in Nutritional Sciences (Nutritional Biochemistry), and an MBA from New York University, she has worked in the housewares and food industry creating products and marketing programs for healthier living. She recently co-authored The Perfect Portion Cookbook, a 5-star rated cookbook with Anson Williams (Potsy from Happy Days) that guides consumers to healthier portion control. She is excited to be launching her new book SATISFY this year,  which takes nutrition and deliciousness to a whole new level. To learn more:  https://www.monadolgov.com    Please scroll to the bottom for an ingredient list if you'd like to make something yummy and healthy together with Mona.
Therapeutic Breathing and Inspiration with...  
Rus Devorah Wallen, LCSW, ACSW is an accomplished musician, performer, social worker/psychotherapist, administrative consultant, lecturer and community leader.  Displaying unusual versatility as an educator, she conducts workshops and programs on various themes ranging from emotional well-being and marriage enhancement to Chassidic philosophy, music, and religious practice. Mrs. Wallen is an inspiration as a Jewish woman, therapist, teacher, and friend.  To learn more:  https://toratherapeutics.com/about-us/rus-devorah-wallen/ 
Zoom Meeting Login info:  
https://zoom.us/j/787694876?pwd=RkQ4bWFmN0lRNFE5c1dPMUROUGJXUT09
Meeting ID: 787 694 876  
Password: 795738 (if needed)  
Call in # 1-312-626-6799 (if needed)
If you need technical help you may contact Karen at karenbrownedwards@gmail.com.  Please plan ahead if you will need tech support and make sure to be in touch with Karen at least an hour prior to the session. 
 Ingredient list for baking with Mona:  
1 small ripe avocado, 1/4 cup cocoa, 1/4 cup sugar, salt, 1 large egg, baking soda, 1/4 cup dark chocolate chips and cooking spray. 
Have oven preheated to 350.  Having handy the following will also be helpful - food processor, parchment paper and baking sheet. 
(A blender, hand mixer or stand mixer will also work if there's no food processor.)
---
 There is no charge for this event. If you would like to support this program and other programs
virtual or in-person please click here to donate .  Please write in the comments box something like "women's programming".
---
Please click here to open your relaxation gift pack from Rus Devorah Wallen.