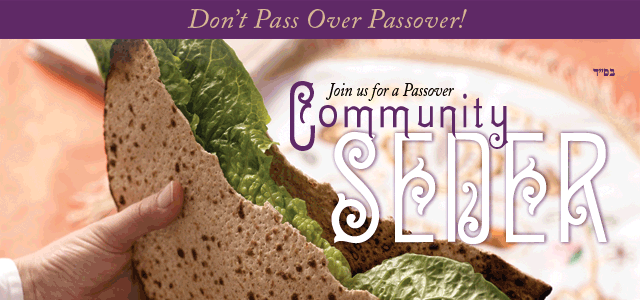 Join us for a Passover Seder you will remember for a lifetime!

Join us at the Chabad Center for an enchanting Passover Seder or two, as we embark on a journey commemorating the Exodus.

Together, we'll discover the eternal meaning of the Haggadah, and enjoy a community Seder complete with hand-baked Matzah, fine wines, singing, and a festive holiday dinner spiced with unique traditional customs.

Menu for both evenings:
Four Cups of Wine/Grape Juice, Matzah, Seder Plate Items, Full Four Course Dinner

First Night - Seder Express:
Monday, April 10 at 7:45pm
Second Seder - Seder Deluxe:
Tuesday, April 11 at 7:45pm

Couvert: Adults $50 Child (3-12) $25
RSVP is required by April 5.
Save $5 per reservation when reserving before March 27.

Sponsorships and Contributions appreciated. No one will be turned away due to lack of funds.